Philips Zoom Teeth Whitening Gel
Philips Zoom Teeth Whitening Gel gently provides a healthy whiter smile that lasts. Buy today and get secure shopping and FREE delivery on orders over £100.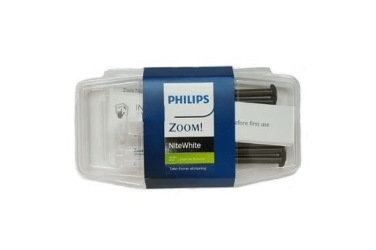 Show Filters
Why Philips Zoom Teeth Whitening Gel?
Philips Zoom Teeth Whitening Gels are becoming increasingly popular due to the levels of strength available. Both 'Day White' and 'Nite White' gels are available from 6% right up to 22%. The lower % strength is perfect for beginners or those who have sensitive teeth, whilst the higher % strength is more suited to those who want to achieve a brighter whiter smile in the quickest time possible.
Frequently Asked Questions
Does Philips Zoom Teeth Whitening Gel Work?

As far as convenient, at-home whitening products go, Philips Zoom is up there with the best of them. The results are immediate, and you will have a whiter smiler in no time. Results can also last as long as four years, which is great payback for a product that takes less than an hour to apply and has side effects lasting only a few days.

Can You Drink Water While Using Philips Zoom Teeth Whitening Gel?

No, you should never eat, drink or smoke while wearing your whitening tray. Once your treatment is finished, remove the tray and gently clean it with a toothbrush before rinsing it and completely drying it. After your application, you should only drink water and no dark coloured food or drink for at least 48 hours.

How Long Does It Take To Whiten Teeth With Philips Zoom Teeth Whitening Gel?

Philips Zoom is one of the most convenient whitening products available if you don't want to wear a tray for a long period. Available in various strengths, the trays should be worn for 30-90 minutes and you will see results in just 2 weeks. Read the manufacturer instructions to make sure you're applying correctly.

Should I Brush My Teeth After Using Philips Zoom Teeth Whitening Gel?

Yes, brushing your teeth after whitening is fine, in fact, it's recommended. We'd advise you use a soft bristled brush and a gentle toothpaste to do so. Also, if you suffer from any sensitivity after whitening, some people have success using products designed specifically for those with sensitive teeth.

Is Philips Zoom Teeth Whitening Gel For Day Or Night?

There are two different versions of Philips Zoom, depending on which approach you prefer. The NiteWhite product is one which is designed for the tray to be worn overnight. It's also the quicker of the two treatments, meaning you will see results quicker. If you don't wish to wear it overnight, then the DayWhite product can be worn for just one hour every day.

What Are The Do's & Dont's Of Using Philips Zoom Teeth Whitening Gel?

The main thing to be aware of following whitening treatment is that your teeth are still porous. Therefore, for at least 48 hours, stay away from drinks such as coffee, soda, wine and tea which can stain your teeth, or anything else with a strong colour.