Teeth Whitening Pens
Get instant and convenient teeth whitening results with our range of amazing teeth whitening pens. Buy today and get secure shopping and FREE delivery on orders over £100.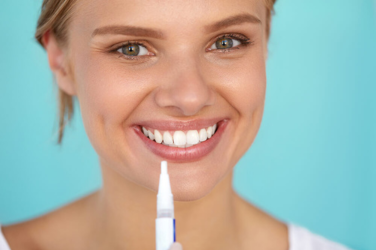 Show Filters
Showing the single result
Showing the single result
Why Choose A Teeth Whitening Pen?
Getting your teeth whitened doesn't have to mean multiple trips to the dentist, lengthy treatments and eye-watering medical bills. Instead, teeth whitening pens provide an alternative way of getting the smile you've always dreamed of. Quick, clean, convenient, and cost-effective, there are a lot of different teeth whitening pens to choose from.
So, whether you're after a quick whitening result at-home or a simple touch-up to your existing treatment, teeth whitening pens provide a great option. They're also perfect for helping prevent further staining from everyday things such as coffee, wine and smoking.
Frequently Asked Questions
Do Teeth Whitening Pens Really Work?

Teeth whitening pens do work, but it's important to note that they're usually used as a quick-fix option or a maintenance tool. To get the best of out of whitening pens, their use should form part of a thorough whitening process with another type of whitening product.

How Long Do You Leave Whitening Pen On Teeth?

Generally speaking, for a full treatment using a tooth whitening pen, the gel will need to be left to dry for 10-15 minutes. If it's a quick touch-up, then you can rinse it off after only 60 seconds. There are some selected gels that do not need rinsing off at all, so always refer to the manufacturer instructions.

Can I Eat & Drink After Using A Whitening Pen?

Most whitening pens will require you to avoid eating, drinking and rinsing for a period of time after applying to your teeth. This is so that the bleaching agents can maintain a strong contact with the stain in order to work its magic. Always refer to the manufacturer's instructions.

Is It Safe To Use A Teeth Whitening Pen Everyday?

The number of times you use your whitening pen will depend on the pen you have, the manufacturer's advice and the results you're looking to achieve. Generally, using the pen 2-3 times a day will be required to see any results. Sometimes, this may result in 30-60 uses in just two weeks. However, always read the instructions and make sure the frequency of use is safe.

Do Teeth Whitening Pens Damage Your Gums?

Whenever you use a whitening pen, the reality is that even a small amount will come into contact with your gums. Over time, this can lead to gum irritation and even severe pain. Therefore, it's important to wipe off any gel from your gums as soon as possible to avoid these problems.

How Fast Do Teeth Whitening Pens Work?

Obviously there are many whitening pens out there to choose from, but generally speaking, research has shown that you can begin to see positive results in just days, meaning you may be just a few days away from starting to see that whiter, brighter smile you dream of.